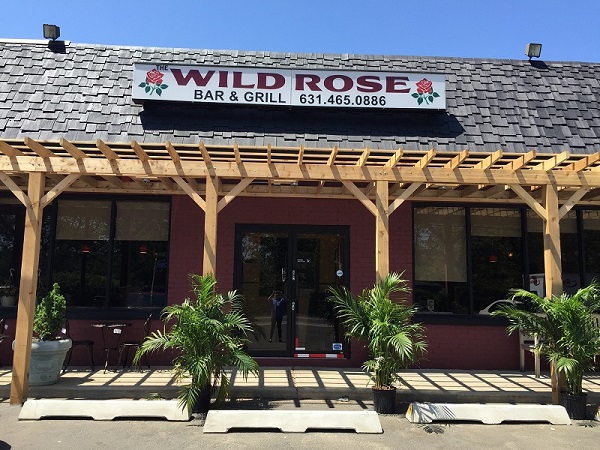 We are happy to host your private party!

We specialize in Showers, Christenings, Birthdays,
Retirements and Corporate Events.
With several packages to choose from, our
experienced party planners will
assist in creating the perfect celebration!
Off premise catering is also available.
No event is too big or too small.
Ask for details!


CATERING MENU


Brunch
(3 Hours)
Available Saturday & Sunday
Between 11am - 4pm
$38 per Person (plus tax & gratuity)
(40 people minimum)
Children 4 - 10yrs $13.95 - Under 3yrs Dine Free
Brunch Includes
Caesar Salad, Rosewood Field Green Salad
Omelet Station, Bagels, Muffins & Croissants
Assorted Mini Danish, Fresh Fruit Display
Cream Cheese & Butter
Grilled/Roasted Vegetable Platter
Choice of Chicken Entrée
Broiled Salmon with Honey Mustard Sauce
Choice of Pasta Entrée
French Toast, Homemade Home Fries
Crisp Bacon & Breakfast Sausage
_________________________________

Mimosas & Bloody Marys
Coffee, Tea, Juice & Soda

** Nova Scotia Lox available for an additional charge **PACKAGES


PACKAGES - Please call for Pricing
Minimum of 15 People


PACKAGE A
Sit Down served with a House or Ceasar Salad
Includes: Coffee, Tea, Soda
Entrée served with Potato & Vegetable or Side of Pasta


Choice of Three (3) Entrees
Chicken or Veal Parmigiana, Franchese, Piccata or Marsala, Bruschetta, Ponte Vecchio
Eggplant Parmigiana or Rollatini
Capellini with Chicken
Rigatoni ala Vodka, Primavera or Broccoli, Garlic & Oil
Penne Romantica
Broiled Tilapia Oreganata or Franchese, Broiled Salmon Oreganata, Horse
radish Crusted, Honey Mustard
Roast Loin of Pork stuffed with an Apple Cranberry Stuffing
Roast Beef with a Mushroom Marsala Sauce
Sliced Flank Steak with a wild mushroom Marsala wine sauce


DESERT - Pick Two (2)
Cannoli - Ice Cream Sundae - Fresh Fruit
Add pasta course for additional 2.50 pp


PACKAGE B
Sit Down served with Fresh Baked Bread & Butter
Choice of Caesar or House Salad
Vegetable & Starch
Coffee, Tea, Soda & Juice
Two Appetizers served Family Style
Three (3) Entrees
Two (2) Deserts


Choice of (2) Appetizers - Family Style
Eggplant Rollatini, Baked Clams Casino, Coconut Crusted Chicken, Fried
Calamari, Bruschetta, Stuffed Mushrooms Oreganata, Fried Mozzarella,
Mussels or Clams in Red or White Sauce


Choice of (3) Main Entrees
(Limited to One Beef Selection & One Seafood Selection)

Rigatoni ala Vodka
Sauteed Prosciutto & Shallots in a Pink Cream Sauce

Penne Pomodoro
Sauteed w/Plum Tomatoes, Fresh Basil Topped w/Mozzarella

Penne Romantica
Sauteed w/Eggplant, Zucchini & Squash in a Marinara Sauce Topped with Mozzarella

Rigatoni Alfredo
w/Broccoli & Chicken in a White Cream Sauce & Shaved Romano Cheese


Chicken or Veal
Piccata
Sauteed w/Artichoke Hearts, Capers, Red Peppers & Olives in Chardonnay Wine Sauce

Francaise
Sauteed in a White Wine & Lemon Sauce

Ponte Vecchio
Sauteed & Topped with Spinach & Mozzarella in a Chardonnay Sauce

Parmigiana
Breaded & Topped with Marinara Sauce & Mozzarella

Bruschetta
Topped with Tomatoes, Onions & Fresh Herbs in a Balsamic Dressing


Beef additional
Marinated Skirt Steak - Teriyaki, Molasses & Soy Sauce Dressing
Oven Roasted Beef in Brown Gravy
Beef Filet Tips served in a Mushroom & Onion Brown Sauce


Seafood
Broiled Salmon
Choice of Honey Mustard Glaze, Horseradish Glaze, Raspberry Glaze, Oreganata or Blackened

Tilapia
Oreganata or Francaise Style


Choice of Two (2) Deserts
Fresh Fruit - Ice Cream Sundae - Cannoli


PACKAGE C
Sit Down served with Fresh Baked Bread & Butter
Choice of Caesar or House Salad
Vegetable & Starch
Coffee, Tea, Soda & Juice
Two Appetizers served Family Style
Pasta Course
Three (3) Entrees
Two (2) Deserts


Choice of Two Appetizers - Family Style
Eggplant Rollatini, Baked Clams Casino, Mini Crab Cakes, Seafood Stuffed
Mushrooms, Fresh Mozzarella & Tomatoes w/Olive Oil & Fresh Basil,
Asparagus in a Pastry w/Gorgonzola Cheese & Sun Dried Tomatoes, Filet
Mignone Tips Grilled & Served on Garlic Toast Points & Topped with
Tomatoes and Gorgonzola Cheese


Choice of One (1) Pasta
Rigatoni ala Vodka
Sauteed Prosciutto & Shallots in a Pink Cream Sauce

Penne Pomadoro
Sauteed w/Plum Tomatoes Fresh Basil Topped w/Mozzarella

Rigatoni
with Broccoli, Garlic & Oil

Linguini
served in a Red or White Clam Sauce

Penne Romantica
Sauteed Eggplant, Zucchini & Squash in a Marinara
Sauce topped with Mozzarella


Choice of Three (3) Main Entrees
(Limited to One Beef Selection & One Seafood Selection)


Chicken or Veal
Piccata
Sauteed with Artichoke Hearts, Capers, Red Peppers & Olives in a Chardonnay Wine Sauce

Marsala
Wild Mushrooms in a Wine Demi Glaze

Ponte Vecchio
Sauteed & Topped w/Spinach & Mozzarella in a Chardonnay Sauce

Chicken Cordon Bleu
Breaded & Stuffed w/Ham & Cheese in a Wild Mushroom Sherry Wine Sauce


Beef
Marinated Skirt Steak
Teriyaki, Molasses & Soy Sauce

Beef Filet Tips
In a Mushroom & Onion Brown Sauce

Charcoal New York Shell Steak


Seafood add $3 for shrimp & sole
Broiled Salmon
Choice of Honey Mustard Glaze, Horseradish Glaze, Raspberry Glaze, Oreganata or Blackened

Tilapia
Oreganata or Francaise Style

Shrimp Scampi
Succulent Shrimp, in a lemon garlic Scampi sauce

Stuffed Sole
with crabmeat


Choice of Two (2) Deserts
Fresh Fruit - Ice Cream Sundae - Cannoli


Buffet
(Minimum 40 People)

CHOICE OF FOUR DISHES
Includes: Roasted Potatoes, Mixed Vegetables
House or Caesar Salad
Bread & Butter
Coffee, Tea, Juice & Soda


Chicken or Veal
Francese
Egg battered chicken breast w/lemon, white wine & butter

Marsala
Mushroom Marsala wine sauce

Picatta
Artichoke, peppers & olives lemon white wine sauce

Bruschetta
Diced tomato, red onions, mozzarella w/balsamic drizzle

Ponte Vecchio
Spinach, mozzarella, chardonnay wine sauce


PASTA
AlaVodka or Cheese Ravioli, Stuffed Shells, Manicotti
Pomodoro
Romantica
Baked Ziti
Broccoli & Oil


FISH
Stuffed Sole stuffed with a crabmeat filling
Salmon or Sole or Tilapia
(Oreganata, Horseradish Crusted or Honey Mustard)

_________________________________


CARVING ROAST BEEF OR TURKEY
SAUSAGE & PEPPERS
EGGPLANT ROLLATINI OR PARMIGIANA
BEEF & BROCCOLI
ROASTED PORK
SLICED ROAST BEEF W/ MARSALA GRAVY

Sliced Marinated Skirt steak with broccoli rabe, Asigo cheese,
roasted peppers, roasted potatoes with a demi-glace